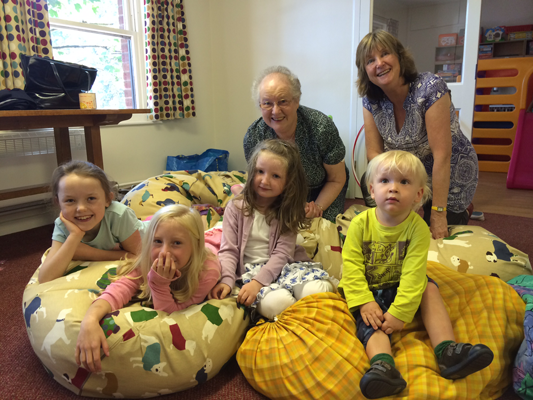 Junior Church provides a programme for children of all ages. We are a small friendly group which enables all who join us to be made very welcome. Our young people join the service for approximately 20 minutes before going up to their Junior Church session. During their time in church we provide an activity mat for the very little ones.
We have a small band of 'Helpers' who take turn on a rota basis to provide a fun and enriching time with our young people. Depending on the number of children present we may divide into groups or join together for our activities. We enjoy a wide variety of activities and are constantly adjusting them to our children's needs. Activities we often enjoy include singing worship songs, reading, looking and if age appropriate discussing Bible verses, quizzes, drama, Arts & crafts, cooking & games. We try to help the children understand the Bible and how Jesus' love for us can help us in our lives today. We also strive to help them see the bigger picture and look at ways we can help those less fortunate than ourselves.
For the last 7 years Members of Junior church have undertaken the whole preparation, cooking and serving of Our Family Christmas Lunch for around 100 people & the Easter Breakfast for around 40 people!! We have been able to donate the monies raised from these events to The British Heart Foundation, Twinning Toilets, Christian Aid, Oxfam Unwrapped and a local charity providing a Christmas lunch for teenagers living in Bedsits.
 Why not come and join us?

For Information about Junior Church Contact:

Lynne Antell see Contact Us page

 

Junior Church News

Click to View


£155 donated to The Red Cross Ebola Fund.

Thank you from Katy & Dan for their wedding Gift